2017-18 Winter Advantage Programs
Designed for players ages 6 to 10 years old.
See the Winter Program Overview for all winter programs.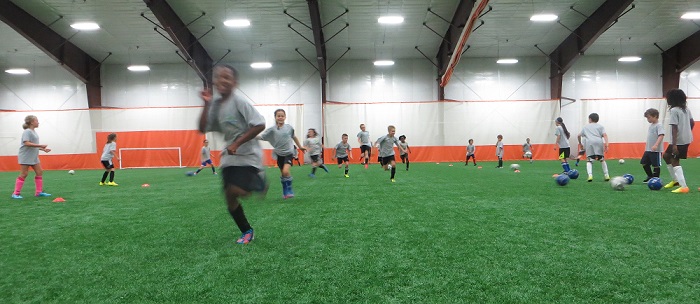 Winter Advantage programs take place in The Barn, a 50 x 80 yard indoor turf field at Kimball Union Academy
Two indoor Winter Advantage sessions offered:

Winter #1 Clinic starts on November 15, 2017 (5 sessions)

Wednesdays, November 15, 2017 - December 20, 2017 -- 5:00pm - 6:15pm
Winter #2 Clinic starts on January 10, 2018 (5 sessions)

Wednesdays, January 10, 2018 - February 7, 2018 -- 5:00pm - 6:15pm
Cost:


$60 per Clinic, or $115 for BOTH Clinics*
Fee includes a LSC jersey
*$5 off for attending BOTH clinics -- must register for BOTH clinics on initial online registration.
Location:
The Barn, Kimball Union Academy, Meriden, NH
---
REQUIRED FORM:

Print the

Printable Registration Form

(under Printable Documents) in the last step of the online registration and either scan and email it to us, send it by mail or bring to your first soccer session.
NOTE:
*

RETURNING

Advantage players should use their existing GotSoccer account login (account and password) to register. Do NOT create a new account each time you register. Click here for instructions for RETURNING players.
*

NEW

players must create a new player account in GotSoccer in their first program registration. Click here for instructions for NEW players.
REGISTRATION:
Register online only. Click the link above to register your son/daughter.
---
LSC Jersey
– A free LSC jersey is included with your clinic registration fee, which should be worn at each session.
What to Wear
– All players sh

ould wear their supplied Advantage LSC jersey.
Additionally, please wear your own black shorts and black socks to each session, along with

shin guards and cleats (regular outdoor soccer cleats). Mouth guards are not required.
Wear street shoes/boots to the Barn and change into your cleats inside (to avoid tracking in dirt, wet snow, salt, etc -- which permanently stays on the indoor turf and causes damage.) P

articipants will receive their LSC jersey at check-in on the first day of the Advantage Program.
What to Bring – All players MUST bring the Printable Registration Form for this clinic registration (see above) to the first session (or have sent it to the LSC office prior). In addition, all players should bring a labeled water bottle to each session filled with water only (no juice, Gatorade or food allowed inside the soccer facility). Wear/bring layers as the temperature in the Barn can fluctuate and sometimes be unpredictable. LSC will provide a ball at training.

Cancellations – This is an indoor soccer program and therefore not often subject to cancellation. However, in the event of severe road and/or weather conditions or an unforeseen closure of the facility, then we may need to cancel a session. Our aim is to make a cancellation decision by 2pm each day. Should there be a cancellation, Lightning Soccer Club will email all participants using the email addresses provided in the player's online registration form. Due to facility availability and pre-scheduling requirements, LSC will make up only one day of cancellations in a given session (regardless of the number of cancelled days.)

---
Please see the Camp, Clinic & Program Withdrawal/Refund Policy, which applies to the Lightning Advantage Programs.